i-Mark International LLC.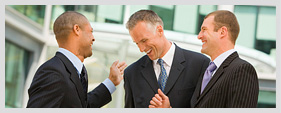 Providing New Business Capabilities & Perspective
Times have changed competition from world markets and the uncertainty of the world economy has made yesterday's best practices unacceptable for financial success in the future. More than ever, the ability to redirect your business instantly to exploit every aspect of the prevailing business climate is the critical ability needed to insure your business future. To obtain this level of adaptability requires a special set of skills. It requires deep business knowledge and the ability to formulate solutions over multiple business and technology disciplines and finally deliver these positive changes in record time at minimum budget. This is a tall order even for even the best resource corporation and most often too much for the majority of American businesses.
What today's businesses need is access to a new breed of business resource a highly capable, objective problem solving resource that can work within a company's existing corporate structure and enable existing company personnel to out-perform any critical issues that impair financial performance.
i-Mark International LLC. (Innovative Marketing International) is just that resource.
It consistently delivers an unencumbered approach to addressing and solving business issues. It has the unique capability to investigate a business situation, identify and develop new business opportunities and then bring any planned improvements to reality for its client companies in a cost-effective, timely and consistent manner.
While providing its clients with cost effective solutions is important, it is not what i-Mark considers its most "client valuable" attribute.It is
i-Mark's innovative perspective that creates the most value for its clients.
I-Mark INNOVATES business solutions that make a real difference.
Compared to our competitors, i-Mark employs only a small nucleus of senior business professionals. We utilize the best proven business approaches and we engineer our solutions utilizing proprietary business modeling tools and the latest IT technologies. Our proprietary analysis methods consistently expose real issues that others miss.
We function as the core of a network of independent consultants, third-party business service providers and specialized business professionals that work together as a cohesive, optimized workforce. Our networked resource pool provides i-Mark with a limitless supply of impact business skills and personnel. Our "on-demand" usage of all personnel allows us to effectively contain costs while providing truly exceptional service and results.